Students who read have the power to succeed.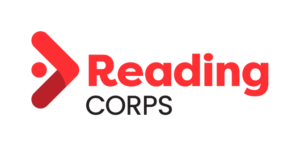 Students who are strong readers by the end of third grade are positioned to be strong learners the rest of their lives. But in the United States, more than half our students reach fourth grade without learning to read proficiently. Together, we can change this! The amazing thing about our program - we train ordinary people to make an incredible impact as tutors.
Find Reading Corps Opportunities
Reading Corps has served 336,570 students.
Reading Corps Tutors:
Serve in a school full-time or part-time, working one-on-one with students who need extra help with reading.
Conduct tutoring sessions that are 20 minutes long, so each student is tutored 100 minutes per week.
Track student progress and regularly meet with coaches to assess data and work toward learning targets.
Designed for Results
In order to help as many students as possible, Reading Corps is designed to support America's schools. In 2017, Reading Corps was recognized by the Library of Congress for best practices in literacy promotion. As an honoree, Reading Corps is just one of four organizations worldwide to be recognized in reading instruction and tutoring!
Effective
Reading Corps has proven to be effective in any setting. We've scaled nationally to benefit schools in urban, suburban, and rural community – all with successful outcomes!
Proven
Students who received Reading Corps tutoring demonstrated growth in phonics, reading fluency, and oral reading fluency scores that were equivalent to an extra 50%-90% of a year of schooling.
Economical
Our programs provide a good value for schools by providing hundred of hours of support for the students and staff. Some locations pay a site fee.
2X
After a single semester, the average kindergarten student in Reading Corps performs twice as well as their peers.
3X
Elementary students who receive Reading Corps services are nearly three times less likely to be referred for special education services.
Total Learning Classroom Initiative
Our team works to research, pilot, evaluate, and scale new ways to help kids go further. Out of that research and evaluation comes new initiatives to explore potential solutions for emerging needs. Like our Total Learning Classroom Initiative.
Minnesota has some of the largest education disparities in the nation. TLC, an initiative of Reading Corps, is working to change this. As part of TLC, AmeriCorps members called "Scholar Coaches" serve at schools with high academic needs. Embedded in K-3 classrooms, they provide additional capacity and partner with a licensed teacher to help students become better readers, engage families in learning, and promote systems change.
Serving as a Scholar Coach is great preparation for graduate programs and careers in education and public service. Members receive excellent training and are part of a team of Scholar Coaches at their school.
Find TLC Opportunities
"Tutoring to me has been the absolute best. I have gained so much experience and confidence in myself that will help me in my future endeavors."
"I learned English through one-on-one tutoring – I know it helped me. Individual tutoring sessions are often better for learners."
"To see the excitement on a child's face when they've been told they did a great job is my favorite part of serving."